My music is recorded on 9 albums:

- In and out the country
- 10 years C.A.W.A.B.
- Road to Nashville
- The country guide CD 2000
- The country guide CD 2001
- Range of colors
- Tribute to Woody Guthtrie
- The Painter
- Back Home
This is a certification for a expert member of the field of painting of the Art committee of international Culture & Arts Federation in accordance with Art 2 – 7 of the Regulations of International Culture & Arts Federation.
South Korea. 2016
I started making music at the age of 13. Later painting also became a part of my life. But it was only when I started travelling that I found out my life would be filled with music and art.
So I spent the rest of my life putting my feelings into music and paintings.
Recently Paulo Duarte Filipe made a roadmovie about my life, music, artwork and vision, which should be released in the movie theaters, in Europe around the end of this year.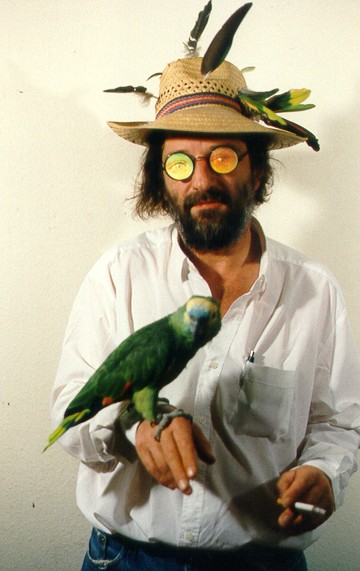 As a painter I have had exhibitions all over the world:
- 1996- Genk: ( B ) Gallery
- 1996- As: ( B ) cultuur naar mensen
- 1999- Leuven: ( B ) Gallery
- 2000- Lier: ( B ) Art for people - collective
- Genk: ( B ) Gallery Johan Langenaecker
- 2002- Penacova: ( P ) Camara Municipal - individual
- 2003- Coimbra: ( P ) Gallery S. Francisco – individual
- 2003- Coimbra: ( P ) Restaurante Novo Rest individual
- 2003- Coimbra: ( P ) Restaurante Cantinho do Reis - collective
- 2003- Coimbra: ( P ) Restaurante Forno a Lenha - individual
- 2003- Coimbra: ( P ) Restaurante D.Rodrigo - collective
- 2003- Coimbra: ( P ) Gallery de Arte Hotel Dona Inês - individual
- 2004- Coimbra: ( P ) Restaurante Cantinho do Reis - collective
- 2004- Mira: ( P ) Câmara Municipal de Mira - Museu Etnográfico da Praia de Mira - individual
- 2004- Coimbra: ( P ) Câmara Municipal de Coimbra - Ordem dos Advogados - individual
- 2004- Pombal: ( P ) Câmara Municipal de Pombal - Galeria do Teatro-Cine de Pombal - individual
- 2004- Penacova: ( P ) Parque Municipal Penacova – individual
- 2004 – Coimbra: ( p ) Restaurante-galeria Nacional - collective
- 2004 – Coimbra: ( P ) Restaurante Cantinho do Reis - individual
- 2004 – Vale Da Silva: ( P ) Atelier Alambique - collective
- 2005 - Coimbra: ( p ) Restaurante-galeria Nacional – individual
- 2005 - Coimbra: ( P ) Associação de Solidariedade Social dos Professores
- 2005 - Vale Da Silva: ( P ) Atelier Alambique - collective
- 2005 - Coimbra: ( P ) Restaurante Cantinho do Reis - collective
- 2005 - Vale Da Silva: ( P ) Atelier Alambique - individual
- 2005 – Tabua : ( p ) Câmara Municipal de Tabua. Junta de Freguesia .
- 2005 - Mira: ( P ) Câmara Municipal de Mira - Museu Etnográfico da Prai a de Mira- individual
- 2005 – Penacova : ( P ) Câmara Municipal de Penacova - individual
- 2005 – Gois : ( P ) Goisarte 2005 - collective
- 2005 – Poio : ( ES) - collective
- 2005 – Pedrulha – Coimbra : ( P ) Atelier Artes Plásticas de Coimbra - collective
- 2005 – Coimbra: ( P ) Restaurante Cantinho do Reis - individual
- 2006 – Gois : ( P ) Goisarte 2006 - collective
- 2006 – Pedrulha – Coimbra : ( P ) Atelier Artes Plásticas de Coimbra - collective
- 2006 – Coimbra: ( P ) Restaurante Cantinho do Reis - individual
- 2006 – Meirinhas: ( ES) Museo Junta al Rio – collective
- 2006 – Mirando do Corvo: ( P ) Vale da Silva: A Arte na Aleia - collective
- 2006 – Porto de Mós : ( P ) Arte à Visto : Castelo Porto de Mós - collective
- 2006 – Diest : ( B ) Gallery Esschius – individual
- 2007 – Coimbra : ( P ) Restaurant O Porquinho - collective
- 2007 – Coimbra : ( P ) Restaurante Cantinho do Reis – collective
- 2007 - Pedrulha – Coimbra : ( P ) Atelier Artes Plásticas de Coimbra – collective
- 2007 – Aljustrel ( P ) : Biblioteca Municipal Aljustrel - individual
- 2007 - Gois : ( P ) Goisarte 2007 - collective
- 2007 – Coimbra : ( P ) Restaurante O Porquinho – individual
- 2007 - Coimbra : ( P ) Arte Dolce Vita - collective
- 2010 - Hasselt - ( B ) Galerie-Kunsthoeve – De Oude Barrier - collective
- 2011 - Hasselt - ( B ) Galerie-Kunsthoeve – De Oude Barrier - individual
- 2014 – Genk – ( B ) Al Dente – individual
- 2014 – Tossa De Mar – ( ES ) – individual
- 2014 – Faro – ( P ) minha Fukushima – collective
- 2014 - Casa Grande - Ayamonte - ( ES ) collective
- 2015 – Haegeumgang Theme Museum – South Korea – collective
- 2016 – Museum of Kumanovo, Kumanovo – Macedonia - collective
- 2016 - the House of Culture "Koco Racin", Skopje. Macedonia - collective
- 2019 - cc MUZE Zolder - ( B ) left hand georges artproject - movie - paintings music
- 2019 - Artebo - Bolonga ( I ) collective
- The serie of twelve paintings' Our Friend Alzheimer' can be seen in the psychiatric hospital Sint-Annendael in Diest, Belgium.
- Member of 'Atelier Oficina de Artes, Assoiação Cultural Arte à Vista.( P )
- Reported in the book:
De Belgische beeldende kunstenaars uit de 19 de en 20ste eeuw
Art in Belgium. Edition 2002
Autor: Paul Piron.
- Reported in the book: Belgium Artist's Signature part 3
- Member of Peace and Art Society (Portugal)
- Art in Belgium , edition 2016