Tussen 1997 en 2018 bracht left hand georges 9 albums uit:

- In and out the country
- 10 years C.A.W.A.B.
- Road to Nashville
- The country guide CD 2000
- The country guide CD 2001
- Range of colors
- Tribute to Woody Guthtrie
- The Painter
- Back Home
This is a certification for a expert member of the field of painting of the Art committee of international Culture & Arts Federation in accordance with Art 2 – 7 of the Regulations of International Culture & Arts Federation.
South Korea. 2016
left hand georges (Georges Veltjen) is muzikant, schilder en wereldreiziger.
Er werd dit jaar een film over hem opgenomen, een roadmovie, op weg naar Portugal, waar hij 25 jaar gewoond heeft. De start van de trip en de film vond plaats op 9 juni in CC De Muze in Heusden-Zolder, waar left hand georges voor het vertrek van zijn road trip een concertje gaf.
De boodschap die hij via zijn kunstwerken, muziek en teksten brengt, valt samen te vatten als universal love. In zijn voorliefde voor diversiteit, neemt hij het vaak op voor de minderheden in onze maatschappij.
left hand georges zelf heeft een aangename doorleefde stem die hij af en toe tot onder het NAP laat zakken.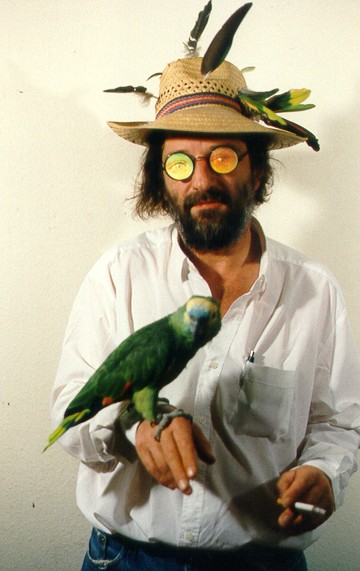 Als kunstenaar heeft hij zijn schilderijen over heel de wereld tentoongesteld:
- 1996- Genk: ( B ) Gallery
- 1996- As: ( B ) cultuur naar mensen
- 1999- Leuven: ( B ) Gallery
- 2000- Lier: ( B ) Art for people - collective
- Genk: ( B ) Gallery Johan Langenaecker
- 2002- Penacova: ( P ) Camara Municipal - individual
- 2003- Coimbra: ( P ) Gallery S. Francisco – individual
- 2003- Coimbra: ( P ) Restaurante Novo Rest individual
- 2003- Coimbra: ( P ) Restaurante Cantinho do Reis - collective
- 2003- Coimbra: ( P ) Restaurante Forno a Lenha - individual
- 2003- Coimbra: ( P ) Restaurante D.Rodrigo - collective
- 2003- Coimbra: ( P ) Gallery de Arte Hotel Dona Inês - individual
- 2004- Coimbra: ( P ) Restaurante Cantinho do Reis - collective
- 2004- Mira: ( P ) Câmara Municipal de Mira - Museu Etnográfico da Praia de Mira - individual
- 2004- Coimbra: ( P ) Câmara Municipal de Coimbra - Ordem dos Advogados - individual
- 2004- Pombal: ( P ) Câmara Municipal de Pombal - Galeria do Teatro-Cine de Pombal - individual
- 2004- Penacova: ( P ) Parque Municipal Penacova – individual
- 2004 – Coimbra: ( p ) Restaurante-galeria Nacional - collective
- 2004 – Coimbra: ( P ) Restaurante Cantinho do Reis - individual
- 2004 – Vale Da Silva: ( P ) Atelier Alambique - collective
- 2005 - Coimbra: ( p ) Restaurante-galeria Nacional – individual
- 2005 - Coimbra: ( P ) Associação de Solidariedade Social dos Professores
- 2005 - Vale Da Silva: ( P ) Atelier Alambique - collective
- 2005 - Coimbra: ( P ) Restaurante Cantinho do Reis - collective
- 2005 - Vale Da Silva: ( P ) Atelier Alambique - individual
- 2005 – Tabua : ( p ) Câmara Municipal de Tabua. Junta de Freguesia .
- 2005 - Mira: ( P ) Câmara Municipal de Mira - Museu Etnográfico da Prai a de Mira- individual
- 2005 – Penacova : ( P ) Câmara Municipal de Penacova - individual
- 2005 – Gois : ( P ) Goisarte 2005 - collective
- 2005 – Poio : ( ES) - collective
- 2005 – Pedrulha – Coimbra : ( P ) Atelier Artes Plásticas de Coimbra - collective
- 2005 – Coimbra: ( P ) Restaurante Cantinho do Reis - individual
- 2006 – Gois : ( P ) Goisarte 2006 - collective
- 2006 – Pedrulha – Coimbra : ( P ) Atelier Artes Plásticas de Coimbra - collective
- 2006 – Coimbra: ( P ) Restaurante Cantinho do Reis - individual
- 2006 – Meirinhas: ( ES) Museo Junta al Rio – collective
- 2006 – Mirando do Corvo: ( P ) Vale da Silva: A Arte na Aleia - collective
- 2006 – Porto de Mós : ( P ) Arte à Visto : Castelo Porto de Mós - collective
- 2006 – Diest : ( B ) Gallery Esschius – individual
- 2007 – Coimbra : ( P ) Restaurant O Porquinho - collective
- 2007 – Coimbra : ( P ) Restaurante Cantinho do Reis – collective
- 2007 - Pedrulha – Coimbra : ( P ) Atelier Artes Plásticas de Coimbra – collective
- 2007 – Aljustrel ( P ) : Biblioteca Municipal Aljustrel - individual
- 2007 - Gois : ( P ) Goisarte 2007 - collective
- 2007 – Coimbra : ( P ) Restaurante O Porquinho – individual
- 2007 - Coimbra : ( P ) Arte Dolce Vita - collective
- 2010 - Hasselt - ( B ) Galerie-Kunsthoeve – De Oude Barrier - collective
- 2011 - Hasselt - ( B ) Galerie-Kunsthoeve – De Oude Barrier - individual
- 2014 – Genk – ( B ) Al Dente – individual
- 2014 – Tossa De Mar – ( ES ) – individual
- 2014 – Faro – ( P ) minha Fukushima – collective
- 2014 - Casa Grande - Ayamonte - ( ES ) collective
- 2015 – Haegeumgang Theme Museum – South Korea – collective
- 2016 – Museum of Kumanovo, Kumanovo – Macedonia - collective
- 2016 - the House of Culture "Koco Racin", Skopje. Macedonia - collective - 2019 - cc MUZE Zolder - ( B ) left hand georges artproject - movie - paintings - music
- 2019 - Artebo - Bolonga ( I ) collective
- The serie of twelve paintings' Our Friend Alzheimer' can be seen in the psychiatric hospital Sint-Annendael in Diest, Belgium.
- Member of 'Atelier Oficina de Artes, Assoiação Cultural Arte à Vista.( P )
- Reported in the book:
De Belgische beeldende kunstenaars uit de 19 de en 20ste eeuw
Art in Belgium. Edition 2002
Autor: Paul Piron.
- Reported in the book: Belgium Artist's Signature part 3
- Member of Peace and Art Society (Portugal)
- Art in Belgium , edition 2016